Livewire! 3/1
Madison Brunoehler: From Game Show Live!, this is.....................
https://www.youtube.com/watch?v=e__mg3BQlq8
Livewire! Your news.......with sass. Presented by the new Ariana Grande sized cups at Starbucks. A better way for your taste buds to say, Thank u, next.
And now from our Game Show Live! Newsroom, here comes Pierre Kelly!
Me: Thank you Madi2theMax, welcome to Livewire! We're in March and I heard there was a hostless Oscars last Sunday but we are the ones that aren't looking for any hosts but myself and Madison, so don't waste your time. We got a jam-packed news show for you, so quit writing your acceptance speeches and let's
.......get wired!!!!!
Buzzy Cohen is tackling another stage........Podcasting.
"Mr. Personality," as series' host Alex Trebek dubbed him, is teaming up with Audible to create an
Audible Original
series in which Cohen will share with listeners his sometimes unconventional, yet proven strategies to train for success, no matter what the field of study, Audible tells Heavy exclusively.
Cohen is self-developing the Audible Original which will be exclusively released on the platform in 2020.
The production will be written and performed by Cohen, who's married to wife
Elisha Levin
, and works as a music executive in Los Angeles when not slaying the competition on
Jeopardy!
. The Columbia University grad is excited to share his personal tips with people through Audible, and plans to interview fellow top
Jeopardy!
performers as well, to give listeners a wide range of useful training tools, Audible told Heavy.
Water, Water, _____
Alec Baldwin was in Michigan and Flint residents were excited.
U.S. Rep. Dan Kildee's office confirmed the actor, who played Jack Donaghy on NBC's "30 Rock" from 2006-13, was in Flint Wednesday to interview Kildee for an upcoming documentary on the Flint Water Crisis.
Baldwin talked to Kildee, D-Flint Township, about "his successful efforts to pass a $170 million aid package for Flint through Congress, including much-needed money to help the city remove lead pipes and expand health care services to those exposed to lead," Robyn Bryan, spokeswoman for Kildee told the Free Press.
The Detroit News said
the untitled documentary from director Anthony Baxter has been in the works since 2015.
Former "
American Idol
" contestant Antonella Barba is facing federal charges after allegedly working as a courier for a drug ring last year, according to court documents.
Barba was arrested in October 2018 in Norfolk, Va., for "unlawfully, knowingly, and intentionally" possessing 100 grams of heroin with the intent to sell it. She pleaded not guilty and was later released on bond.
Last week, she was indicted in a series of 11 federal charges. They consisted of 10 counts of distribution or possession of cocaine, heroin, and fentanyl with the intent to distribute and one count of conspiracy to distribute the same narcotics.
Barba competed on the sixth season of "
American Idol
" in 2007. She made it to the top 16 singers before being eliminated. Jordin Sparks would go on to win the season. Between 2009 and 2015, Barba released eight singles and competed in an episode of "Fear Factor" in 2008.
We must pause for the first of 2 performances of Livewire! The first of which is from Epic Robot TV and it's a parody from Shame of Thrones, which is a musical blending in with Moana. Watch.
Where is Harlem, Alex?
Guess which's game show's son is in the food business?
Harlem Bespoke:
Lucille's
at the corner of 150th and Macombs Place is currently finishing up construction and the owner of the eatery has now been revealed. An article in
Fordham news
mentions that an alumni named Matthew Trebek is opening his second restaurant in Harlem by the aforementioned moniker which should come to now surprise. The younger Trebek has been an uptowner for a few years now and originally opened a popular Mexican spot called
Oso
on Amsterdam by 140th Street in Hamilton Heights back in 2016. With that said, it appears that the local restauranteur will be introducing a more cozy cafe in Central Harlem that has a more historic appeal than the contemporary mix of the previous endeavor. There will also be Lucille's pizza next door and this new arrival will be one of the best restaurants to debut uptown in the past couple of years if the food is anything like Oso:
LINK
Quick pause right now for a birthday shout out.
https://youtu.be/oAL2CfqskLs
So I would like to give a shout out to........Jordan Hass who turned 30 today. I've known this man for quite some time and as a game show fanatic, he seems to take a deep dive into the world and with his podcast, he proves it.
http://jordanhass.com/podcast
On this podcast, he takes one game show and conversates with a guest about it, plus news and a pricing game spotlight that you should know about. Think that's not enough for him? Well, he's also on Twitch.
https://www.twitch.tv/jordangames
Every Friday night, he dives through a whole 7 days of news and tells you why. And how!
Happy 30th Jordan. Here's hoping GSN or Buzzr may hire you in freelance.
(song stops)
Stop! and stare at this
If you thought seeing a Fashion show was this cool, then this dress from Moschino makes it way cooler.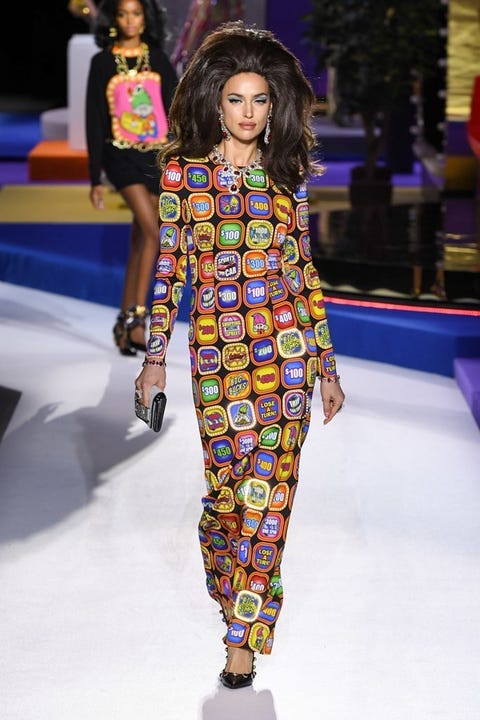 This dress looks similar to the classic 1980s game show, Press your Luck, but we threw in this one for extra measure.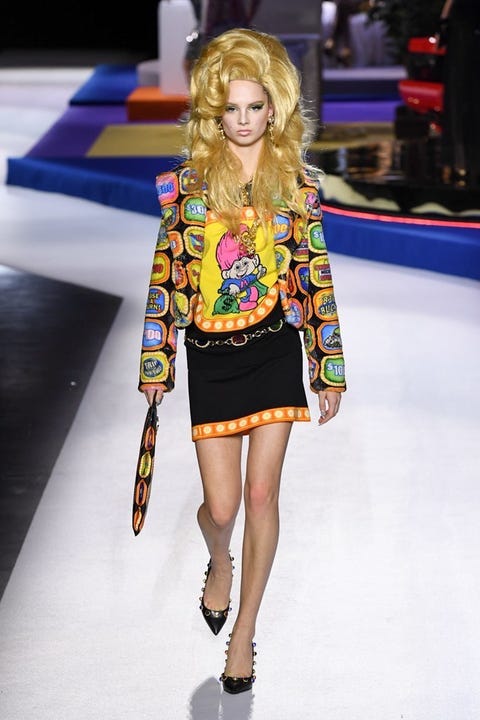 Now I wonder if they made a dress similar to Wheel of Fortune.....
Time for something we haven't done in a while....
It's time for Chris Stuckmann's Stuck @ The Movies. And today......
We Have entered March and this month of course, is Women's history month, so we've decided that our Bullseye bonus Island blonde ambition Audreyismusic is doing an acoustic version of the song "Red Flag" to end the work week on a good note.
That's all for now, but remember one thing: How many personalities does it take for Austin Rogers......to make a podcast?
So until next time and all the time....play on playas.