(Listen, I don't care if you want some ice cream, you need to get down to Menchies and buy some to make your warm weather a refreshing one. Menchies has so many falvors, there's even a mascot. Take that, TCBY. Head to Menchies today.)
http://www.youtube.com/watch?v=KNiIenc7ovs
VO: This is GSN The Know. The most informed and entertained blog in the United States of America. Now, from the WIlton-North building, here is the man about games, Pierre Kelly.
Me: And we're ready to go. What a turnout it was at Mermaid Lagoon for the Easter Egg Hunt as I popped the balloon to start it and everyone including Eden Sirene participated and Anthony Hardy of WQFS/WUAG did live broadcasts from the location, but now it's out of Never Never Land and back to reality in this crummy building. Yep, we got another week of news and stuff to do, so the first period is underway. Hilty, with all this faith, trust & pixie dust....sprinkle me.
http://www.qwizx.com/gssfx/usa/gtp-spaces.wav

Catch 21 took it straight to the bank hitting the top spot, but Feud took 2nd and Pyramid 3rd. With the rest being Feud, Baggage climbed onto #9. Now the ones swallowed by an alligator.
http://www.qwizx.com/gssfx/usa/gtp-ding.wav
MG and MOAM were tied at 242nd, but MTWI and P+ came. MOAM got sandwiched between Baggage and 1 vs. 100 before P+ rounded it out. Hilty can fly, second star to the right and straight on 'til morning. Go Hilty!



http://www.qwizx.com/gssfx/usa/it-catselect.wav



Time to separate the hard-boiled from the raw eggs in APril's Yay & Yawn.
The Yay: Bible in May. Need I say more?
The Yawn: The reactions to the It Takes a Church commercial shown on Youtube. Bible over Church huh?
http://www.youtube.com/watch?v=gcRt2eXiHX0
After this break, new BIble teams and schedule changes. I'll text with Tinkerbell while you watch this.
(song fades out)
http://www.youtube.com/watch?v=XXwptHtsqL4
(Quick fade out)
Back again, kiddies and with Easter disposed of, we got new changes....
*Password Plus will replace Blockbusters at 9am.
*GSN's Whammy! will replace Press Your Luck at 9:30am
*Sale of the Century will move to 10:30am as The $25,000 Pyramid will move to 10am.
*Lingo (Woolery) will replace The $100,000 Pyramid at 11:30am
*Chain Reaction will replace GSN's The Pyramid at 2:30pm.

*1 vs. 100 (Saget) remains until Monday, April 28th will it will be replaced by The Newlywed Game.

On Saturday and Sunday, the 26th and 27th, Blockbusters will air at 9am and Press Your Luck will air at 9:30am.
All in Atlanta time, Whammy! will enter the morning stage. This hasn't happened since Karn Feud took over a couple of years ago. Plus, we get to have CR back. YES! More changes right now.....
*Another hour of Minute to Win It will be added on Sunday, May 11th only. The Ohno version will air from 12pm to 2pm while the Fieri version will air from 2pm to 4pm; which replaces an hour of Karn Family Feud.
*On Memorial Day (May 26th), GSN will air a 12-hour Steve Harvey's Family Feud marathon from 8am to 8pm.
*American Bible Challenge will rerun from 8pm to 10pm Monday, May 26th; replacing John O'Hurley's Family Feud.
*Game Show Moments Gone Bananas with Ben Stein will air Thursdays at 9pm and 12am as a place-filler for It Takes a Church.
*American Bible Challenge reruns Saturday, May 31st at 5pm, replacing O'Hurley's Family Feud.
*American Bible Challenge reruns Sunday, June 1st at 12pm and 7pm
*Game Show Moments Gone Bananas reruns Sunday, June 1st at 8pm.

*"New to GSN" episodes of The $25,000 Pyramid still start on Wednesday, May 21st at 10am.
*For the week of May 19-25, American Bible Challenge still keeps its slots (Thursday 8-10pm NEW, Thursday 11pm-1am, Saturday 4pm-6pm, Sunday 11am-1pm and Sunday 7pm to 9pm).
So in case It Takes a Church gets the heave-ho, the special with Ben Stein will air it instead of Harvey Feud. Good call? Maybe. As for Bible, it returns and hopefully it'll be for people who missed it.

Sticking with Bible.....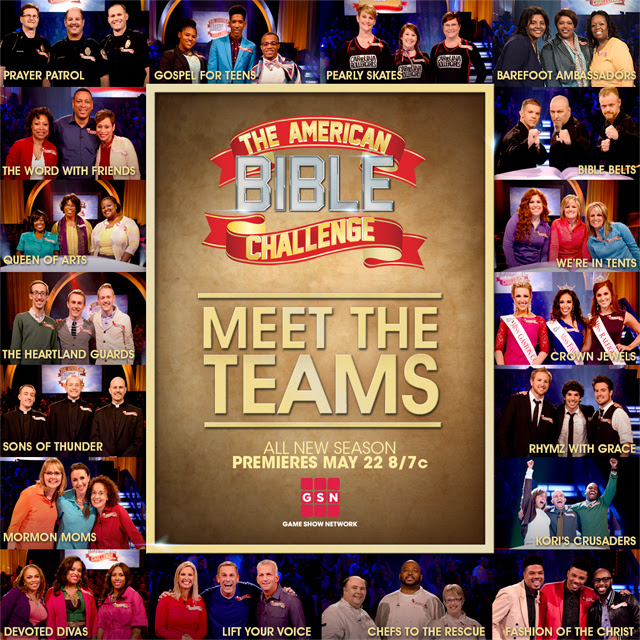 It's....finally.....here! The lineup for the new season of Bible. Wanna know who they are? Here you go.

https://www.youtube.com/watch?v=kR7azqI6wik



TEAM BAREFOOT AMBASSADORSHometown: Charlotte, NC
Charity: Samaritan's Feet, which gives shoes to needy kids


Team Members

: Natychia Young, Catrina Reese and Belinda Jackson


TEAM BIBLE BELTS
Hometown: Otway, OH
Charity: Kicks For Jesus, which offers free martial arts instruction
Team Members: Jonathan King, Matt Phipps and Brad Harris


TEAM CHEFS TO THE RESCUE
Hometown: Portsmouth, VA
Charity: Mercy Chefs, exists to serve professionally prepared, high-quality meals to the victims of local, state and national emergencies
Team Members: Walter Taylor, Gary LeBlanc and Peggy Williford


TEAM CROWN JEWELS
Hometown: Lumberton, NC
Charity: The Vs Cancer Foundation works with sports teams to do fundraising drives for cancer
Team Members: Hannah Webb, Victoria Huggins and Kelly Glendennin

TEAM DEVOTED DIVAS
Hometown: Akron, OH
Charity: Unity in the Community, which provides education, community enhancement and public services
Team Members: Patrice Smith, Gloria Williams and Randi Bibbs


TEAM FASHION OF THE CHRIST
Hometown: New York, NY
Charity: Uniting Against Lung Cancer raises money to research and help prevent lung cancer
Team Members: Glen Proctor, Bruce Proctor and Robby Cecil


TEAM GOSPEL FOR TEENS
Hometown: New York, NY
Charity: The Mama Foundation of the Arts aims to present, promote and preserve the history and fundamentals of gospel music, jazz and blues
Team Members: Tru Osborne, Trystan Fields-Newton and Percy Henry


TEAM HEARTLAND GUARDSHometown: Buda, IL
Charity: Make-A-Wish Foundation, which grants the wishes of children diagnosed with life-threatening medical conditions in the United States and its territories.
Team Members: Dane Barnett, Ryan Beach and Quinn Brandt


TEAM KORI'S CRUSADERS
Hometown: Bunker Hill, IN
Charity: The Irok Foundation assists families with day-to-day expenses that are not covered under insurance.
Team Members: Andre Mitchell, Heather Morgan and Andrew Draper


TEAM LIFT YOUR VOICE
Hometown: Hilliard, OH
Charity: The National MPS Society
Team Members: David Faile, Rachel Wojnarowski and Matt Wojnarowski.


TEAM THREE WISE WOMEN
Hometown: Providence, UT
Charity: One Heart for Bulgaria, which provides a quality life for Bulgarian orphans
Team Members: Jill Mason, Deborah Gardner and Heidi Barker


TEAM PEARLY SKATES
Hometown: Raleigh, NC
Charity: Donate Life (North Carolina) helps families cover the costs of donation surgeries
Team Members: Bethany Pergerson, Millie Bomar, and Ciara Healy

TEAM PRAYER PATROL
Hometown: Joplin, MO
Charity: Rebuild Joplin, a non-profit that builds homes for those who suffered from the Joplin tornado
Team Members: Brian Lewis, Matthew Stewart and Shane Dotson


TEAM QUEENS OF ARTS
Hometown: Queens, NY
Charity: The Arts & Education Continuum provides music art programs for kids
Team Members: Christine George, Cladusia Smartt, and Theresa Stembridge


TEAM RHYMZ WITH GRACE
Hometown: Mobile, AL
Charity: Home of Grace helps victims of abuse
Team Members: Seth Brasher, Harrison Hughes and Kory Van Matre


TEAM FAITHFUL FATHERS
Hometown: St. Paul, MN
Charity: NET Ministries hosts getaways for young people where they are able to learn life skills and build their character in an optimistic setting
Team Members: Marc Paveglio, Mark Pavlak and Chad Van Hoose


TEAM WE'RE IN TENTS
Hometown: Grand Rapids, MI
Charity: Camp Michawana awards kids who would not otherwise get to go to camp
Team Members: Jessica Taber, Rochelle Visser and Brittni Hill AKA "Red Thunder", "Spitfire", and "Heartbreaker"


TEAM WORDS WITH FRIENDS
Hometown: Charlotte, NC
Charity: The VCC Church in the City Women's Shelter offers money to underprivileged children
Team Members: Lisa Moorehead, Shawn Cunningham and Cheryl Riley

Tke your pick.

(song stops)

Time for the 2nd intermission presented by swagbucks.com. While I was snacking down onj my flatizza in the breakdown, something strange happened....



On to period 3. Whammy! is turning 15 years old. FOr 2 seasons, everything you knew about PYL spiced it up a bit, but we got a moment to live by for you, so here you go.
https://www.youtube.com/watch?v=0FCHk_gSwKo
We're outtie. Today's blog is brought to you by Tiger handheld games. They made what the 90's feel like it, even if it didn't anyway.
Don't forget to email me at kellypierre8@gmail.com, coppockonsports@yahoo.com, Pierre Jason Kelly on FB and @Johnny_Arcade on twitter. We'll see you later and play on, playas.