Living in a Winsane Asylum!
(Does Roku make you watch game shows? Well.....yes and any other TV shows you watch regularly, and it's all based on what you watch for less than cable. Isn't that smart?)
https://www.youtube.com/watch?v=1qwYLHE8J6s
VO: This is GSN The Know. The most informed and entertained blog in the United States of America. Now, from the WIlton-North building, here is the man about games, Pierre Kelly.
Me: This just in: Little Jack Horner sat in a corner eating his Christmas pie, along came a spider and sat down in a small box that went to Little Miss Muffet, so she told him to watch TV, and pretty soon, Jack Be nimble jumped over the couch and flipped to GSN while Old Mother hubbard went to the cupboard to get some dog food while 3 men in a tub got out from a quick shower to join them. Even Georgy Porgy kissed little Miss Muffet just to say hi, but the cow jumped over the full moon and it's time for this dish to run away with the spoon as we start with....
The
whatstrending.com
Starting Line.
2 weeks after Winsanity, many people are talking about the newest phenomenon. We start with....
"

no

@TheChaseUSA

&

@ChainReactionUS

makes

@GSN

dull 2 me!

#winsanity

is not as good/challenging!.morons running

#GSN

?

#CreativeTVIsDead"

-@G77rich on Twitter
What do you mean it's not as good and challenging as it is? Winsanity is a good & challenging game. Next is.....
"I was disappointed. Faison looked like he was forcing the excitement. The game has some illogical rules (if the contestant loses, the audience does too; a replacement contestant can win the grand prize with only one answer while the original contestant has to be perfect, etc.)" -

DwWashburn on GameShowFollies
It's like "Make The Grade." You have the lead, blow it in the fire drill and have someone else finish the desk all lighted up. Next one....
"
I'm not crazy about the gal who is the announcer/sidekick-she annoys me the same way JD Roberto did as TPIR announcer."
-TLEberle on Game Show Forum
I actually like her. For real. I hope it'll be more of her in her future. That co-host: Kira Soltanovich. Next is.....
"
One minor quibble I have is that the volume level of the audience makes TPIR looks tame.
"

-BillCullen1 On Game Show Forum
You see, back in the days when TPIR first started, it was quiet at first, but became more rabid as the show progressed as the fan base grew getting international incarnations. So what's with the TPIR audience today to compare that to Winsanity? Next is.....
"
Amid all the hooting and hollering, the actual gameplay proceeds at the pace of a sedate snail. It took a half-hour to get through one contestant and ten facts, which meant plenty of loud filler. But
Winsanity
is not a lot slower than
Millionaire
, after all. And it's more fun."

-Casey Abell
I think Winsanity is somewhat a bit faster, but with less loud noise, it would make up for a better show. Any more comments? I'll tell you more after the 3rd period.
https://www.youtube.com/watch?v=FbV6R9uEmOo
This Friday on Overtime, Our preview on ABC's Sunday Night lineup. Will it succeed or fail? Find out.
(song stops)
https://www.youtube.com/watch?v=4KJeS1MdYWc
Just after this, What To Tell The Truth of Today learned from past versions. Let me go find a GPS to seek Little Bo Peep's lost sheep and we'll return.
(song fades out)
(Quick fade out)
Back and I'm glad Humpty Dumpty turned out to be hard-boiled, so a little help will put him back together again. In the meantime, To Tell The Truth premiered 2 weeks ago and we learned that it's a bit more zealous than the previous versions. However, no money is earned for incorrect votes. That's just wrong. The previous ones used to do that. I would have pre-recorded music than a live band playing and have a panelist ask one at a time until a buzzer sounds. That's what previous versions did. However, The "Before You Go" segment is a far cry from the Ward & 1990 "One on One" segments. Also, the "Tweet A Lie" is the exact opposite of the @midnight FTW round. I say it's okay to watch, but the Sunday night lineup will be better come this Sunday.
A tweeter named Adam Lentz came up with this photo and Flasher has it: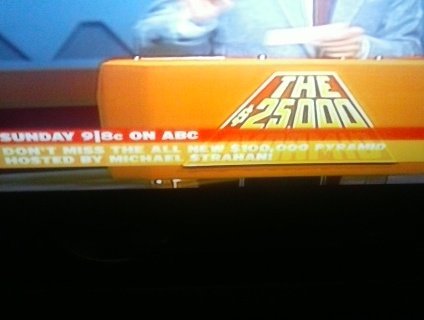 This was all to hype the new version on Pyramid on ABC. I guess they want to see this bad.
Meanwhile, Skin Wars: Fresh Paint hit a high-mark.
Skin Wars: Fresh Paint,
which premiered last Wednesday, is the network's second most-watched series premiere based on L+3 ratings (DVR ratings).
The American Bible Challenge holds the distinction for having the highest-rated series premiere. I guess Skin Wars and it's companion are now big hits after all.
Now to some.....
https://www.youtube.com/watch?v=ugLFKqCtKs8
House cleaning for Independence Day week:
Changes:
*Family Feud (Karn), the 2003-04 season (Karn's second season) will air weekday afternoons at 12pm and 12:30pm; replacing the Harvey version
*Skin Wars: Fresh Paint will air NEW episodes in a new timeslot effective July 6th at 9pm; replacing Skin Wars (which has its season finale on June 29th)
*Family Feud (Harvey) will air after the new Skin Wars: Fresh Paint Wednesday at 10pm, 10:30pm, 1am and 1:30am; replacing where Skin Wars: Fresh Paint used to air
*Skin Wars: Fresh Paint will encore Wednesday latenight at 12am and 3am
*Skin Wars: Fresh Paint reruns Friday at 11pm, Saturday latenight 12am and Sunday at 4pm
*Baggage will air Saturday latenight at 1am and 1:30am; replacing Skin Wars: Fresh Paint
*Family Feud (Harvey) will air Saturday at 4pm and 4:30pm; replacing Skin Wars: Fresh Paint
*Idiotest will now air Sunday at 5pm and 5:30pm
Skin Wars: Fresh Paint will be building up on the timeslot where it's companion show used to be in. Also, an hour of Idiotest will take over for one hour on Sunday afternoons.
(song stops)
Now the 2nd intermission presented by swagbucks.com. One of my friend Anthony Hardy's favorites, here is Ariel Pink talking about a snack food.
Now comes the 3rd period.
Can't believe that the 2010-11 season of Family Feud from Orlando has been sitting on the shelf since they first hit the airwaves on GSN. Since the version first came in 5 years ago, there were only 10 slots a week. Ten turned in to twenty, which turned in to thirty rapidly throughout the spring of 2012. By the time September 2012 rolled around, Steve Harvey Family Feud had 40 airings a week on GSN. By the time October 2012 rolled around, Harvey Feud had 60 airings a week on GSN (which stabilized at exactly 60 reruns per week until the spring). And Each one has been on the network 35 times. The question is: When will it stop for good or reduce it to?
Hickory Dickory Dock, look at the clock, it's time to go. Today's program is presented by Nursery Rhymes. What's good for Mother Goose is good for preschoolers too.
Don't forget to email me at

kellypierre8@gmail.com

,

coppockonsports@yahoo.com

, Pierre Jason Kelly on FB and @Johnny_Arcade on twitter. Also I'm on Snapchat as MisterGSN and Instagram as Mister_WCW. We will return next Wednesday, and until we return, Play on playas.