(If every day was Friday, TGI Friday's would be that place. Apps, desssrts, drinks and more. All at a TGI fridays near you.)
https://www.youtube.com/watch?v=1qwYLHE8J6s
VO: This is GSN The Know. The most informed and entertained blog in the United States of America. Now, from the WIlton-North building, here is the man about games, Pierre Jason Kelly.
Me: And it's me with the blog just like Shira Lazar to What's Trending. And what is trending is #Idiotest or #TheChaseUSA. So let's not watch viral videos on a loop and listen to me talk GSN. First things first, it's....
The starting Line.
Had MTV play more music videos and not have reality stuff, it would've never had a Youtube to find stardom. But thanks to GSN, we found this.....
https://www.youtube.com/watch?v=XFO4lI4UfUw&feature=youtu.be&app=desktop
It seems that what a music video is like nowadays is hip-hop today which I don't like at some point, but this one refers to the show's potent star and Brooke herself. It...well, tell you what to expect when you play this here trivia game. I'll say 8/10 because it somewhat feels like what a GSN show is, but take 2 for Brooke on autotune. Eck!
https://www.youtube.com/watch?v=gcRt2eXiHX0
in a nanosecond, what we saw at the GSN 2015 upfronts. Wendy Darling will be ready with your pizza rolls and Surge after this commercial.
(song fades out)
https://www.youtube.com/watch?v=XXwptHtsqL4
(quick fade out)
Everybody on Pizza rolls & Surge? Okay. Bit of house cleaning for youse guys.
*New runs of
It Takes a Church
air Thursdays at 8pm; replacing
The Newlywed Game
.
Family Feud
(Harvey) serves as lead-in and airs from 9pm-11pm, 12am-1am.
*Reruns of
It Takes a Church
will air at Thursday 11pm with no other reruns on Friday, Saturday or Sunday.
*Deal or No Deal (NBC) airs Sunday at 11am; replacing The Chase.
But the big news came from NY & LA. The 2015 GSN upfronts were upon us. And the party was in full effect. Flasher took snaps of what went down.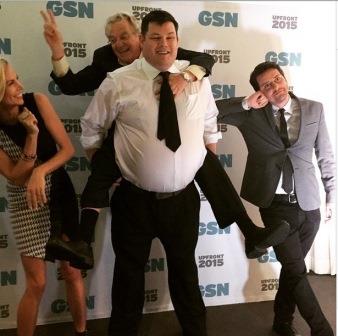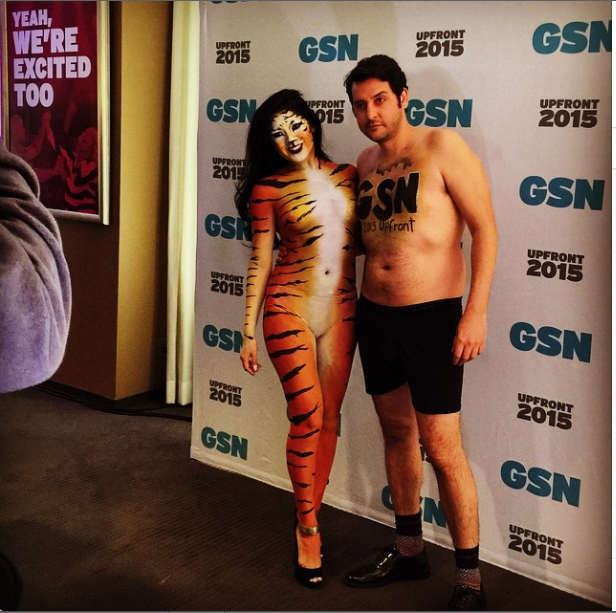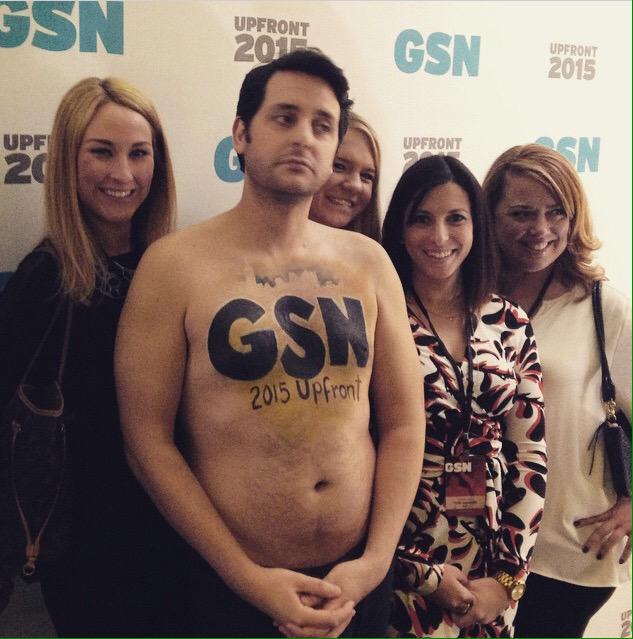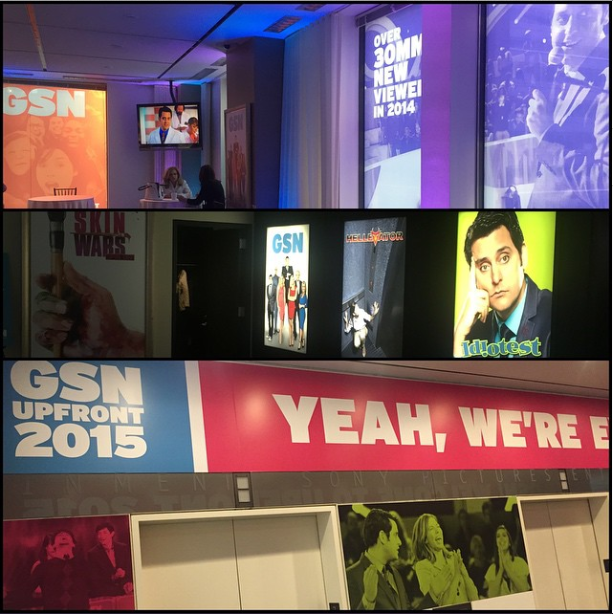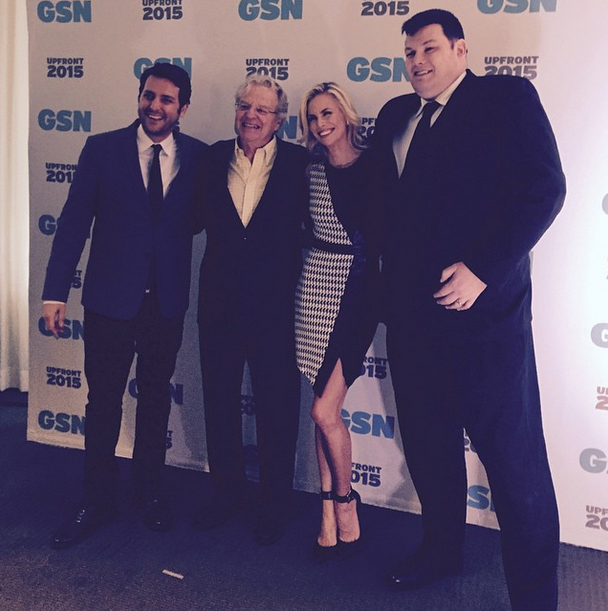 After seeing these snaps, One from the developmental slate is greenlit. It's......"SteamPunked." It may catch on to join "Skin Wars" as a tandem hit. However....
There was one title I find interesting: Man Vs. Fly. Don't know how? Let PK explain.
"In each episode which only lasts three minutes, a contestant gets sixty seconds to bring down a fly in a room using one weapon (knife, vacuum cleaner, paper bag). 50 three-minute episodes have been acquired. GSN will also put the series in development (no pilot ordered and not green-lit)."
Spy vs. Spy anyone?
While our hidden cameras were there? Can you guess who's the new host of Chain Reaction? If you were thinking Rosanna Pansino or Danica McKellar, you're wrong. It's....Flasher.....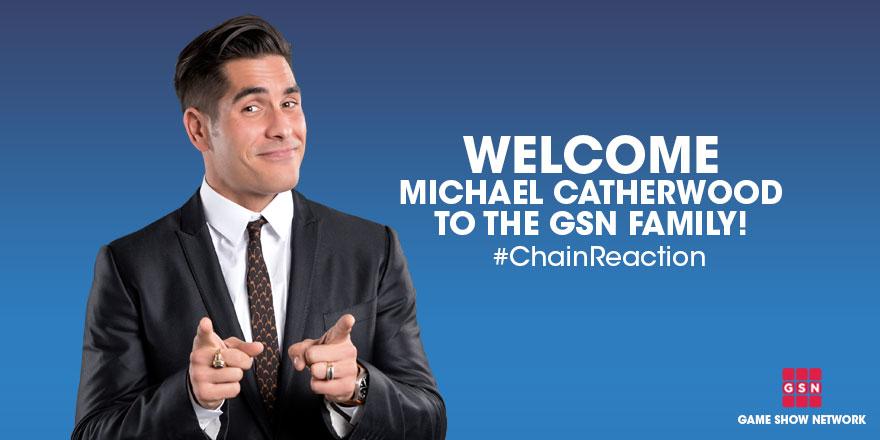 Psycho Mike of the iconic syndicated radio show "LoveLine." He'll bring the waves that Dylan Lane was supposed to do. Hopefully he'll do way better than him.
As far as App Wars goes......it may think it would go to air, but no one said that. More stuff for you now:
Green-lit for production and series run:
Lie Detectors, Steampunk'd
Green-lit for pilot:
Hellevator
,
Winsanity,
Untitled "
Skin Wars
" spinoff
Acquired:
Man Vs. Fly
In Development:
Man Vs. Fly
,
Window Warriors
Current series:
Baggage On The Road
,
Chain Reaction
,
It Takes a Church
,
Skin Wars
,
The Chase
.
Definitely cancelled:
American Bible Challenge
,
Mind of a Man
"Lie Detectors" will be hosted by Rove McManus of the FOX show "Riot" from last year. "Window Warriors" is a title I don't know about, but we'll see how it goes once it's green lit.
But Bible is gone. After 3 seasons, it's no more. So next week, we'll pay our last respects to Bible. Keep tabs on the blog for the full tribute.
One last thing. There's a new logo. Have you seen it on Facebook & Twitter? Have a look:
One word: Lame. If there is a petition to keep the current logo, I'm on it and you definitely need it, too.
Now that I talked much about the upfronts. Steve Harvey will add in 5 more seasons of Feud to tie Dawson for the longest-running Feud host. Guess viral sensations and repeats on GSN pay him well, huh?
Last thing before intermission:
(song stops)
Now the 2nd intermission presented by swagbucks.com. Her name is Barbara Detch. But who is she? Well, while I was listening to the "Skywalking Through Neverland" podcast, I dug her music at first and sought Youtube and Instagram to fan her. Now I'll share that same music with you. Going by Boo Detch........you read right. She has a message for you fangirls, so listen up!

Ummm.....okay. Thank you Boo Detch.
The 3rd period will begin in a moment, but before you do that, aim towards your brower and hit back space to type in:
Or if you want to have a house concert, any keyboard or piano necessary since I don't have either, it's
Who knows? She might bring Cadbury eggs as a thank you gift. Now to the period.
For #16, this past weekend meant losing an hour of sleep and I thought of the perfect show....
It was Cram alright. One of the few shows Jonathan Goodson created outside his lottery creations. He worked with the same person who gave us "Idiotest" a decade later. In it, a 24-hour Cram session took place and afterwards, 2 teams prepared for battle. The reward was $10,000. All they did was know a lot they learned. With a little "Think Fast" thrown in for good measure, I happened to be a Miss Pickwick fan....for some time, but Cram.....
...is asleep with the number 16.
Speaking of sleep, we're about to right now. Today's blog is presented by that color-changing dress everybody was talking about on the internet. Perfect for proms or a night on the town.
Don't forget to email me at kellypierre8@gmail.com, coppockonsports@yahoo.com, Pierre Jason Kelly on FB and @Johnny_Arcade on twitter. We'll see you later and play on, playas.