(The next time you go to Moe's Southwest Grill, you'll hear all the "dead ringers," from Aaliyah, Buddy Holly, Ray Charles, Rick James and more. Plus, there's also artwork sent in from customers across the country. Head to Moe's Southwest Grill today.)
http://www.youtube.com/watch?v=KNiIenc7ovs
VO: This is GSN The Know. The most informed and entertained blog in the United States of America. Now, from the WIlton-North building, here is the man about games, Pierre Kelly.
Me: That my friends, is me and we have got a monster of a show for you. Hilty has the first period, so Hilty, destroy the numbers!
http://www.qwizx.com/gssfx/usa/gtp-spaces.wav
Family Feud took in 1-7, but The Chase parted that Feud sea in 8th to round out the top 10. As for the destroyed stuff......
http://www.qwizx.com/gssfx/usa/gtp-ding.wav
MOAM came first, but a double dose of Blockbusters was sandwiched between Harvey Feud and The Pyramid and again in between Baggage for a singleton. However, a double dose of the latter and 2 more MOAM shows rounded it out. First period done. And Hilty must run off.
http://www.qwizx.com/gssfx/usa/it-catselect.wav
http://www.youtube.com/watch?v=gcRt2eXiHX0
After the timeout, twitterheads on Bible and the continuation of the 2004 class reunion. Play will resume after this.
(song fades out)
http://www.youtube.com/watch?v=XXwptHtsqL4
(Quick fade out)
Back again and Casey Abell of Game Show FOllies predicted what the upcoming season of Chase would happen. Scriptor?
T"he Chase
will eventually break the million-viewer barrier on GSN. That's quite a milestone for our little game show network. But the beauty and the beast steadily improved their numbers in the second season, and I think the third season will prove a very nice surprise."
So it may break the records Bible once had in both season openers.
You tell 'em Kirk!
Sticking with Bible, The Chicago Defender, an independent newspaper, interviewed Kirk Franklin for the upcoming season. He also talks about last season's team The Sisters of Mary, a "team with swagger," who fell in the hands of the Wagner Warriors in the big finale.
Even more Bible stuff happens in another edition of.....
http://youtu.be/wKQ08xSUy20
Twitter Theater. With Bible in a mere 24 hours, One tweeter said.....
"Can't wait for the
#
BibleChallenge
to come back on tomorrow!"
However, one tweeter said.....
"The American
#
BibleChallenge
starring Jeff Foxworthy on
#
GSN
… grossest thing I've heard all day."
However, it's not exactly THAT gross.
(song stops)
This last tweet may be your.....
http://www.qwizx.com/gssfx/usa/na-mikeystops.wav
Fast Fact.
Sarah is mentioned 56 times. Mary, Jesus' mother, is only mentioned 19 times.
#
BibleChallenge
That's from the offical twitter page and for proof....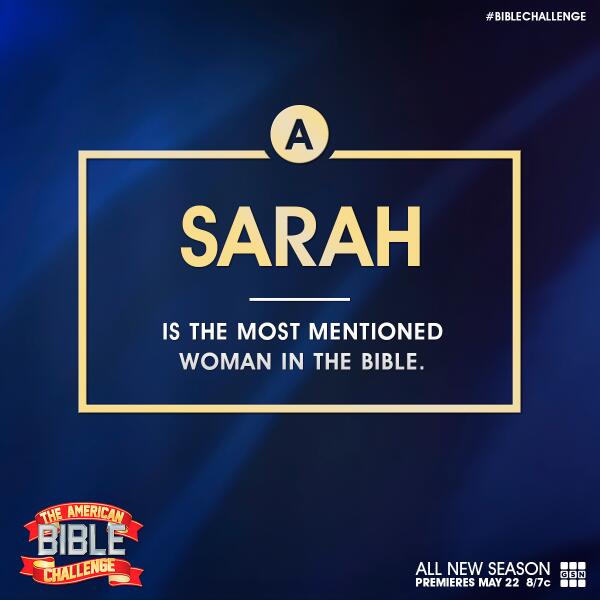 http://www.filmthreat.com/features/76838/comment-page-1/
Even though Match Game recently escaped about of the bottom 10, one writer put together the pieces of a GSN classic.
This week, AT&T annouced that it's decided to buy Directv, the network's minority owner, for over $48 billion dollars. Let's hope the network helps.
Looking at philly.com, a mention of ITAC was in the article and Scriptor has the deets for us.
"In each episode, members of a congregation are asked to help find a partner for an unmarried member, with the church's pastor helping to winnow down the candidates for a match. In the premiere, a 30-year-old engineer named Angela Morgan is wooed by both the men and the self-appointed matchmakers backing individual prospects.
It's still a game - there are elimination rounds and the church gets a donation in the name of the winning "matchmaker" - but it's also a glimpse into the lives of real people who actually seem serious about finding someone to love and to build a life with.
And there's not a hot tub in sight."
Okay........finally........
Range Game
The Texas Rangers baseball club did their versions of Minute and Feud. As for the other 29 ballclubs in Major League Baseball, they're working on a version of "The Chase."
To the 2nd intermission we go and swagbucks.com is the sponsor. Here's another 2004 hit for you from Britney.
And on to period 3.
For 3 seasons, Extreme Dodgeball had been the first big hit under the new change. FOr the first 2 seasons, occupations took part in it. By the last season, cities came in as if you were watching a pro sporting event. Bil Dwyer & Zach Selwyn presided the festivities and female sideline reporters also took part in it including former Hooters girl.....you read that right and Survivor Alum Jerri Manthey. Pretty much the same game we played in gym class, but more rules were twisted and the game had done changed. That made future MOAM producer Mark Cronin find one hit after Cram went off the air that same year and turned the sport into a fad.